INTERNATIONAL Food Quality Standards CERTIFICATES of our Greek Extra Virgin Olive Oil - Cretan Traditional Healthy Food Products
Quality Certifications for our Extra Virgin Olive Oils
Lab Certified EVOO (Extra Virgin) Premium, Awarded, extra low acidity (0,2% – 0,3%) pure Greek Olive Oil from Crete
Cretoikos Greek extra virgin olive oil certificates
FDA – Food and Drugs Administration certification (USA) – Greek Extra Virgin Olive Oil (EVOO)
Our Extra Virgin olive oil (EVOO) is certified by FDA and can be safely imported and consumed in United States. Below please see our FDA certification for our food products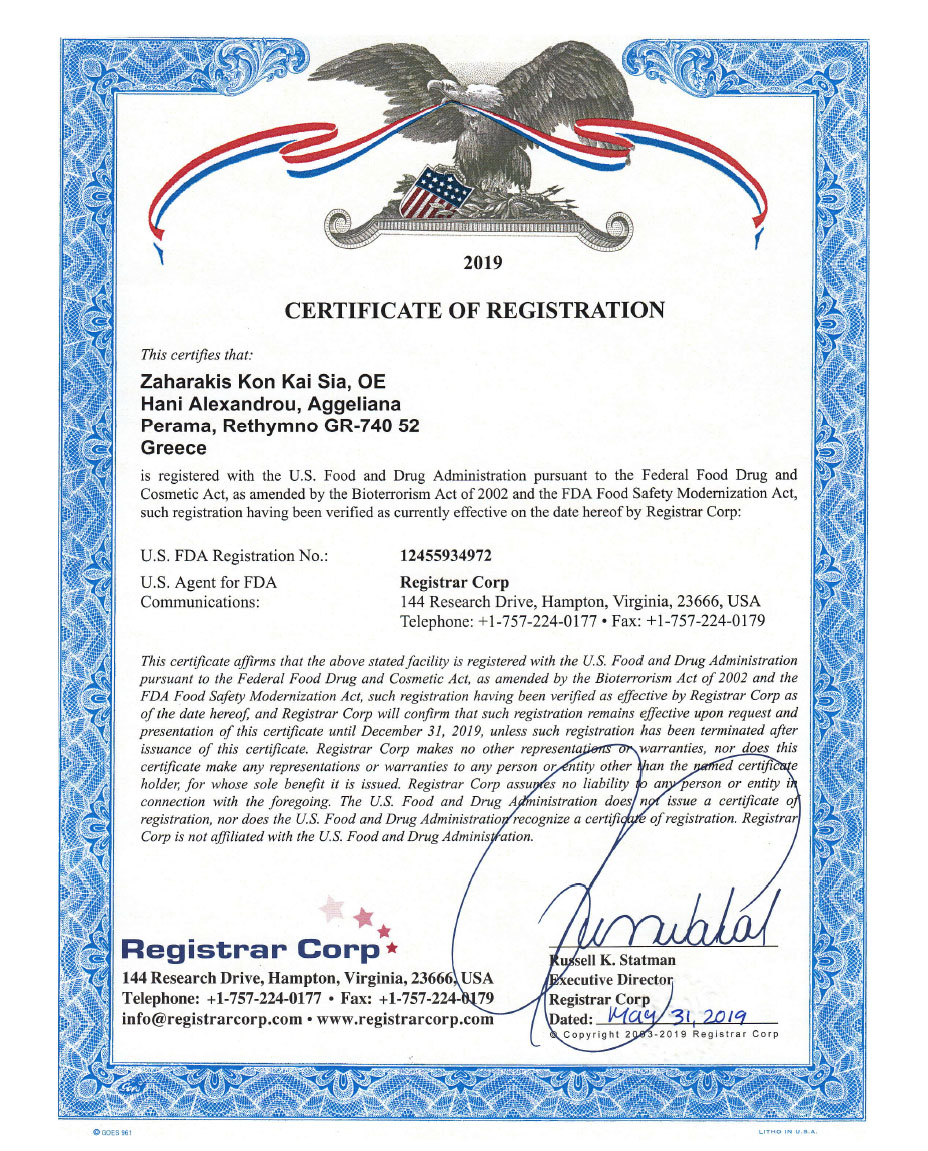 What is FDA?
The Food and Drug Administration is responsible for protecting the public health by ensuring the safety, efficacy, and security of human and veterinary drugs, biological products, and medical devices; and by ensuring the safety of food supply, cosmetics, and products that emit radiation, in USA
What are the FDA regulations?
The FDA regulates a wide range of products, including foods (except for aspects of some meat, poultry and egg products, which are regulated by the U.S. Department of Agriculture); human and veterinary drugs; vaccines and other biological products; medical devices intended for human use; radiation-emitting electronic products; cosmetics; dietary supplements, and tobacco products.
KOSHER FOOD certification for our Greek Extra Virgin Olive Oils (EVOO)
CRETOIKOS Olive Oils conform to the Jewish dietary regulations of kashrut (dietary law) – consume our Extra Virgin olive oils (EVOO) with peace of mind, is KOSHER certified FOOD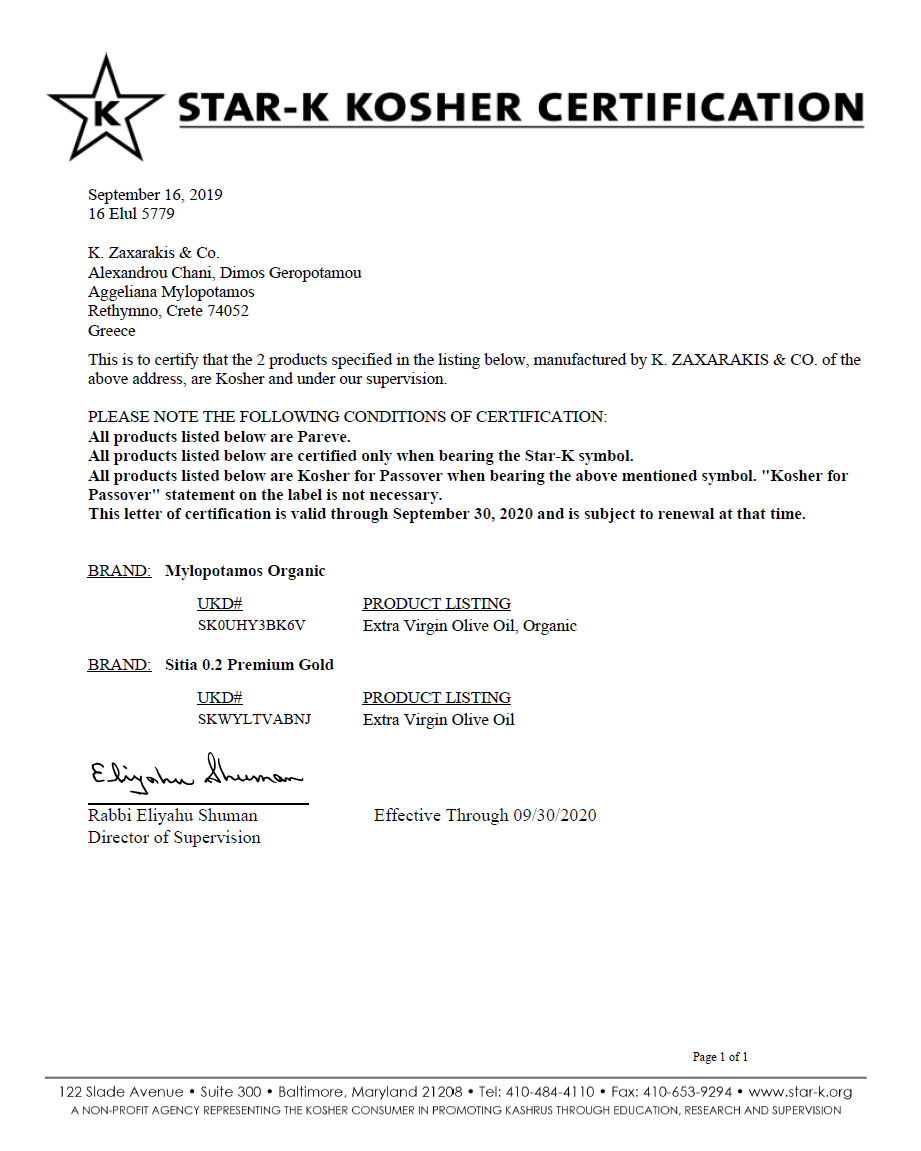 What is Kosher Food? Kosher is another term for kashrut (Jewish dietary law), Kosher foods are prepared following strict kashrut guidelines. Kosher certified ingredients are only the ones that meet rigorous standards of purity and quality specified by the rules of Kosher food (details about Kosher Food can be found here).
Kashrut (also kashruth or kashrus, כַּשְׁרוּת): a set of dietary laws dealing with the foods that Jews are allowed to eat and describes how these Kosher Foods must be prepared according to Jewish law.
What is KOSHER ?
Kosher Knowledgebase
Kosher University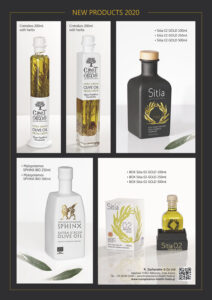 Corporative Gifts, Personalised Business Gifts
Choose our healthy, unique EVOO Olive Oil from Crete Greece (PDO Olive Oils) for your Business Gifts ideas for clients, business partners, or employees gifts.
Our Extra Virgin Olive Oils are a great idea also for Celebrations gifts, Events gifts, Christmas gifts.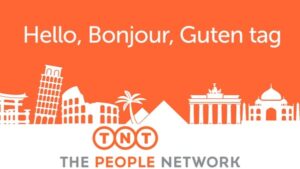 Worldwide Shipping – we ship your order in all countries, worldwide! (with package online tracking available)
We cooperate with TNT Express International courier shipping services in order to provide fast and reliable delivery of your order